How Do I Create a Canvas Module?
1. On your Canvas dashboard, go to the left menu and click on "Courses." Then select which course you would like to edit.
2. Once you reach your courses, click on "Modules" on the left-side bar.
3. In the modules section, click on the dark blue button titled "Module" in the upper right hand corner.
4. Once you've clicked on the module button a pop-up box will show up. Add the name or week of your module. Examples include: "Module 1, Module 1 etc.", "Week 1, Week 2, Week 3, etc." or personalized module names based on the subjects, sections, and topics of your courses. You can also add pre-requisites to opening the module or indicate the date you want your module to open for viewing.
5. Once you name your module you can then either drag and drop files into the module or click on the plus (+) sign in the upper right-hand corner. Once clicked, a pop-up box button will appear so that you can select the assignments, pages, discussion boards, quizzes etc. that you want to add to your module.
6. To navigate to the right spot click in the "Add" dropdown menu at the top to select the type of item you want to link to your module, then scroll down to find the exact one you need.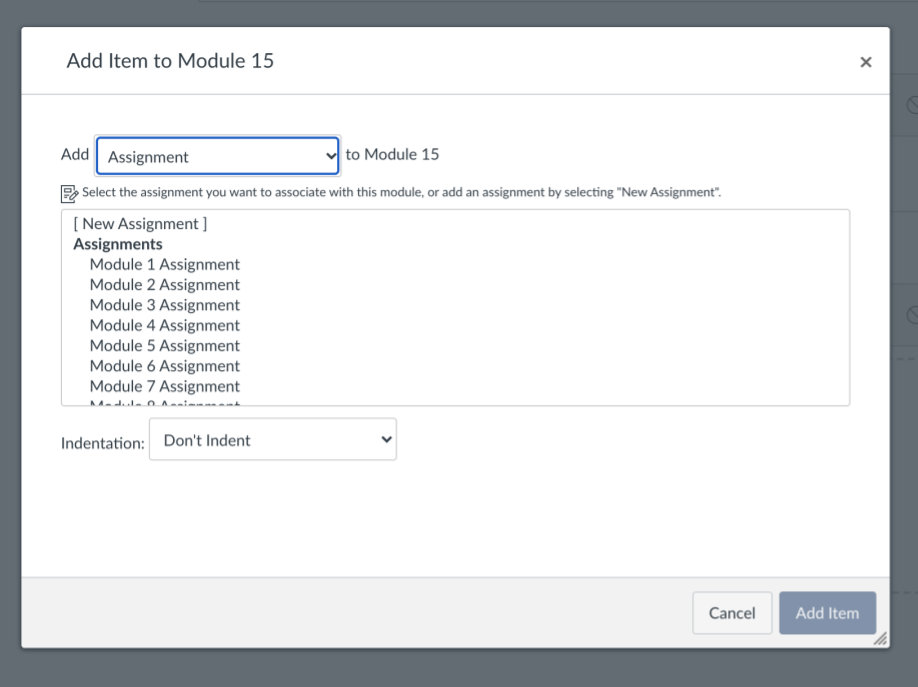 7. To move sections of your module around, click on the three vertical dots in the upper left-hand side of the specific module. Then click on "Move Module" to adjust it's placement.